School of Economics Databases
Access option - On campus within UP Diliman
American Economic Review
A general-interest economics journal. Established in 1911, the AER is among the nation's oldest and most respected scholarly journals in economics.
Applied Economics
A peer-reviewed journal encouraging the application of economic analysis to specific problems in both the public and private sectors. It particularly fosters quantitative and empirical studies, the results of which are of use in the practical field, and thus helps to bring economic theory nearer to reality.
Cambridge Journal of Economics
Founded in the traditions of Marx, Keynes, Kalecki, Joan Robinson and Kaldor, welcomes contributions from heterodox economics as well as other social science disciplines. Within this orientation the journal provides a focus for theoretical, applied, interdisciplinary, history of thought and methodological work, with strong emphasis on realistic analysis, the development of critical perspectives, the provision and use of empirical evidence, and the construction of policy.
Econometrica
Publishes original articles in all branches of economics - theoretical and empirical, abstract and applied, providing wide-ranging coverage across the subject area. It promotes studies that aim at the unification of the theoretical-quantitative and the empirical-quantitative approach to economic problems and that are penetrated by constructive and rigorous thinking.
Economic Policy
Provides timely and authoritative analyses of the choices confronting policymakers. The subject matter ranges from the study of how individual markets can and should work to the broadest interactions in the world economy.
Health Affairs
Explores health policy issues of current concern in domestic and international spheres. Its mission is to serve as a high-level, nonpartisan forum to promote analysis and discussion on improving health and health care, and to address such issues as cost, quality, and access.
Health Economics
Publishes articles on all aspects of health economics: theoretical contributions, empirical studies and analyses of health policy from the economic perspective. Its scope includes the determinants of health and its definition and valuation, as well as the demand for and supply of health care; planning and market mechanisms; micro-economic evaluation of individual procedures and treatments; and evaluation of the performance of health care systems.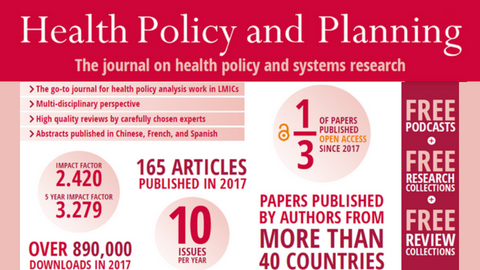 Health Policy and Planning
Publishes health policy and systems research focusing on low- and middle-income countries. This journal provides an international forum for publishing original and high-quality research that addresses questions pertinent to policy-makers, public health researchers and practitioners.
Journal of Asian Economics
(With remote access: ask the college librarian of UPSE) The Journal of Asian Economics was founded in 1990 by the American Committee on Asian Economic Studies (ACAES) as a forum for research on all aspects of the economies of Asia. The Journal serves the ACAES mission to promote economic research on Asia and facilitate engagement between American and Asian economists.
Journal of Economic Literature
First published in 1969, is designed to help economists keep abreast of the vast flow of literature. JEL issues contain commissioned, peer-reviewed survey and review articles, book reviews, an annotated bibliography of new books classified by subject matter, and an annual index of dissertations in North American universities.
Journal of Economic Perspectives
The journal aims to publish articles that will serve several goals: to synthesize and integrate lessons learned from active lines of economic research; to provide economic analysis of public policy issues; to encourage cross-fertilization of ideas among the fields of thinking; to offer readers an accessible source for state-of-the-art economic thinking; to suggest directions for future research; to provide insights and readings for classroom use; and to address issues relating to the economics profession.
Macroeconomics
Focuses on studies of aggregate fluctuations and growth, and the role of policy in that context. Such studies often borrow from and interact with research in other fields, such as monetary theory, industrial organization, finance, labor economics, political economy, public finance, international economics, and development economics.
Microeconomics
Publishes papers focusing on microeconomic theory; industrial organization; and the microeconomic aspects of international trade, political economy, and finance. The journal publishes theoretical work as well as both empirical and experimental work with a theoretical framework.
Quarterly Journal of Economics
The oldest professional journal of economics in the English language. Edited at Harvard University's Department of Economics, it covers all aspects of the field.
Review of Economics and Statistics
A 100-year-old general journal of applied (especially quantitative) economics. Edited at the Harvard Kennedy School, the Review has published some of the most important articles in empirical economics. From time to time, the Review also publishes collections of papers or symposia devoted to a single topic of methodological or empirical interest.
The Economic Journal
The Royal Economic Society's flagship title, and is one of the founding journals of modern economics. Over the past 125 years the journal has provided a platform for high quality and imaginative economic research, earning a worldwide reputation excellence as a general journal publishing papers in all fields of economics for a broad international readership.